1st year project review
PSNC, ul. Wieniawskiego 17/19, Poznań
Accomodation
For accommodation we would like to recommend you one of the following options:
Guest Rooms
ul. H. Wieniawskiego 17/19
61-713 Poznan
Reservation:
tel/fax: + 48 61 8516841
e-mail: olka@man.poznan.pl
Please note: Credit cards are not accepted. Only Polish currency (Polish Zloty) is accepted in this hotel! (1 Euro=approx. 3.8zl)

Hotel Mercure - 80-145 Euro
Hotel Poznan - 76-118 Euro
Jowita - guest rooms in students dormitory - about 25-30 Euro
tel.: +48 61 8292401 or +48 61 8292500
All listed above hotels are in the walking distance from PSNC.
More hotels in Poznan
Arrival and Transportation
Practical information how to get to PSNC (Wieniawskiego street 17/19):
by taxi - please , call +48 61 8222 222 or +48 61 8219 219. If calling from local telephone please skip +48 prefix and add "0" before number (eg. 061 8222 222). Please do not take a taxi without ordering it by telephone first! (there are taxis in front of railway station, very expensive).
by public transport. You can take bus 51 in front of "Dworzec Główny" railway station and go to "Urząd Wojewódzki" (3rd stop). Then you need only to cross the street and you are in front of ICHB/PSNC building (however, you need to go back to the crossing). 51 line runs between 5am and 10:30 pm.
walk - it is approx 1 km from the railway station - map and picture of the PSNC building.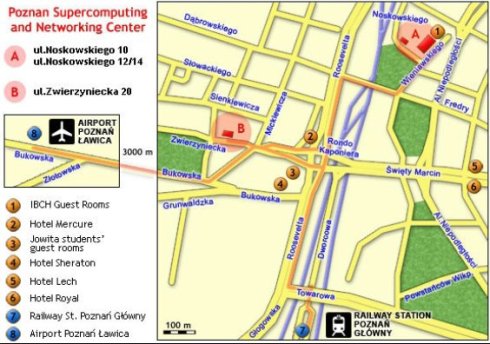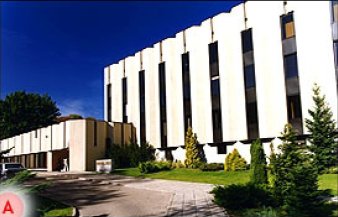 Useful links: